Sales Info
Purchase on line
Paintings and prints make great presents. You can purchase some of my work online as shown in the appropriate galleries. A drop down box below each photo indicates this. These items tend to be limited to those easily posted. For other options please contact me direct.
Sales Information
I have set out below the terms and conditions which apply to information shown in the pages of www.bobwells.co.uk ("the Website") and to the ordering of any products from the Website. By placing an order, you agree to and accept these terms and conditions.
1.Limited Edition Prints
All prints are limited to a print run of 50. They are signed and numbered personally by the artist and printed on high quality fine art paper using Epson Inks.
Please note that computer monitors differ on how they show colours so please understand that colours may vary slightly depending on your monitor.
The sizes stated are the approximate printed area.
8x6" prints have 12x10" mount board and backing board to suit a standard frame and are posted flat.
14x10" prints have 18x14" mount board and backing board to suit a standard frame and are posted flat.
All other prints are sized as stated have a small white border in addition to the printed area to allow mounting and framing by your own framer. They are posted in a tube.
2. Framed Original Paintings
Original paintings are on board, canvas panel or canvas as specified on the photo where the medium is also shown. These are framed using suitably sized solid wood usually Obeche or Ramin, in my workshop and are sometimes limed or painted to complement the painting. Glass is not required as the paintings are either in acrylic or oil. Larger works and glazed paintings may be purchased from my studio or by contacting me directly.
All framed works come ready to hang. The photos below show typical framed paintings. Please contact me if you would like me to email a photo of any particular framed painting.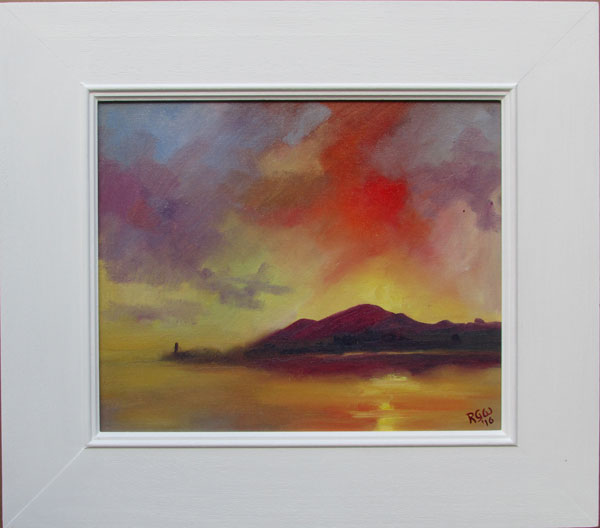 3. Website Information
I have tried to ensure that information provided in the Website is accurate. However, I make no representation and give no warranty of any kind in respect of the information.
I do not accept liability for any loss (direct, indirect or consequential) which may arise from reliance on information contained in the Website or in respect of any error or omission.
4. Description of Products
The description and specification of products in the Website is only approximate and I reserve the right to make changes which do not materially affect the quality or performance of those products.
I may correct any error appearing in the Website or withdraw any product from sale without incurring liability. Price and availability is also subject to change without notice.
5. Ordering
You may order products from the Website by submitting a completed order form through the check out procedure.
Your paypal reciept will confirm acceptance of your order and this (whether or not it is received) makes the contract between us.
6. Price and Payment
The price of the products will be the price quoted in the Website at the time we accept your order. The price will include postage to the UK.
Paypal is the only method of online payment. For other methods please contact me.
7. Delivery
I will arrange for delivery of the products you to the address which you specify in the check out procedure. Subject to availability, I aim to dispatch all goods within 7 days of your order being received. However, the time for delivery will not be essential to the contract between us.
If you do not take delivery of the products or supply adequate delivery instructions, I may cancel your order and retain the products. In this event, I will refund you the price of the products, but you will still be liable to pay any delivery charges.
If there is an error or any other delivery problem in respect of the products ordered, you must notify me in writing within 14 days after the delivery date. I will not be liable for any loss or damage if you fail to do this.
8. Privacy Policy
I do NOT and will NOT pass your details to any third party.
9. Returns & Refunds
I want you to be fully happy with your purchase. I will refund or replace any items that you are not completely satisfied with within 7 days of receipt as long as the goods are returned with their original packaging, have not been used and are in the condition in which they were received.
The cost of the goods will then be refunded but there will be no refund for postage and packing costs.
Please contact us before returning any goods.